Welcome to Gatwick Foot Golf....
Please call to check conditions for play.
Call 01293 820303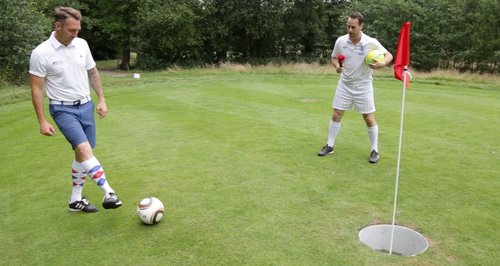 Check out the video click above
The latest news from Gatwick Footgolf
We have just installed a Footpool facility on the patio at the Clubhouse.
Like our Footgolf Footpool incorporates 2 sports Football and Pool and like Footgolf is great fun for all to play.
For special offers, updates and images
check us out on Facebook & Twitter!
Pic of the Week
The Lagham cubs were eager to get out on the course!
Previous Pics of the Week
Give it a whack from the tee on the first - and you'll be one step closer to a birdie!
12 guys from Brighton enjoying the Stag Do!
It's smiles all round for this colourful group of 24 lads who came down for a game of FootGolf.
They paired up and took alternate tee shots to make it even more competitive between them!
This photo was taken just after the groom had footballs fired at him from all angles! -
They loved their first round of Footgolf, and will be returning soon - even if it means
getting married again!
The Hove Park Colts under 12s absolutely loved their round of Footgolf in the week! - A great way for
the team to bond pre-season.
A lovely sunset over the course at Burstow.
A friendly bunch from Central London! - going all-out with the clothing!
A photo on the final green. Another thoroughly enjoyed round of footgolf!
Making the most of the weather at the weekend! - A chilled photo after a much enjoyed
round of Footgolf.
A group photo of all the lads during their practice before hitting the course!
Play it where it lands... Another victim of the dreaded ditch!
One of a local group putting his all into his tee shot on the second hole - give it some welly!!!
A group of local lads came down last Saturday for a competitive match amongst themselves.
The colourful array of clothing, smiles, drinks and great weather made for a brilliant afternoon!
Spike from the Cherry Tree Pub staff bash last Tuesday evening proves that being foot loose and fancy free does not always help when playing foot golf - yes that is his shoe in mid air...
Congratulations Lucinda - a great action shot!
Take a look at some more pictures of a recent event when the staff and regulars from the Local Pub the Cherry Tree came to visit... Click Here
Check out our gallery for more photos!
Thanks for visiting the Gatwick FootGolf Website. We are delighted to announce some significant changes here at Burstow...
Important Changes at Burstow:
UNDER NEW MANAGEMENT - We are please to announce that long term manager and course designer Paul Wright has returned to Burstow FootGolf Centre after a 6 Year absence




Refurbished Course and Facilities - come along to see the difference for yourself.




NEW Foot Golf - an exciting new Experience at Burstow - the first in the South East.



Burstow Foot Golf League - Register your team NOW!


The Round House Cafe and Clubhouse - recently re-decorated and refurbished, the Round House Cafe and Clubhouse now offers hot and cold food daily. A range of light meals, snacks and drinks are available. (Open to the Public).




Special Rates for Seniors, Juniors and Societies - FootGolf.
Gatwick FootGolf - Antlands Lane, Burstow, Horley, Surrey RH6 9TF
Tel: 01293 820303 email: info@burstowfootgolf.co.uk
Website Sponsored by IP UserGroup International - the home of physical security technology